I LOVE my ring!!  
10 Nov 2019
Paula is amazing!  Patient, talented, funny.  She designed the family ring of my dreams!  Took apart an old ring and used some of the diamonds and sapphires I had - and added a raw diamond and a beautiful champagne coloured diamond to the collection.  She followed me through every enthusiasm and every hesitation until we got it right!
The cost was about $3500, including $1300 worth of diamonds.  An incredible price given the number of consultations, the design time, materials, and labour to craft this ring.
I am a picky grandmother who wanted a unique family ring that didn't look like a "family ring" - and the quality and beauty is exceptional.  I highly recommend 
The Pirate + The Gypsy Designs. 
Caitlyn James
New Westminster, BC 
------------------------
Family ring made into bracelet I never take off!!  
25 May 2019
I absolutely love my bracelet Paula designed for me. It's stunning and so light weight, as well, that I don't even worry about taking it off at night, or when I shower. This is the second custom piece of jewelry Paula has made me and her craftsmanship is perfection. Thanks Paula!
Sara Conley
New Westminster, BC
---------------------------------------
Old rings made new again  
12 Dec 2018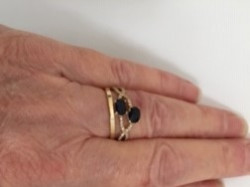 I commissioned Paula to reset my two sapphire rings into one. What a fantastic job she did. She sent me a couple of designs... both beautiful... I settled on one and the finished product is absolutely stunning. I have received many compliments on the uniqueness of the ring. I am more than thrilled with her professionalism and workmanship and I would recommend her without hesitation.  Thank you Paula. 
Rosemary Grady
Brantford, ON 
---------------------------------------
"Love Stoned" Black Onyx Ring 
14 Sep 2018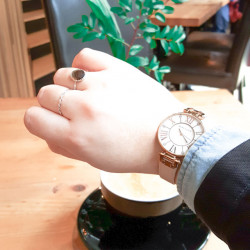 I bought a beautiful sterling silver black onyx ring from Paula at the Shipyards Night Market. This ring immediately caught my eye and I was in love. Not only does Paula make the most incredibly well-designed pieces, she was able to resize this ring for me on the spot! Paula went out of her way to provide thoughtful customer service and made sure I was 110% happy with my purchase. I will definitely be buying more of her jewelry, since I'm pretty much in love with all of it! Thank you Paula for bringing your incredible art into this world <3
Annejolie Roex
North Vancouver BC
---------------------------------------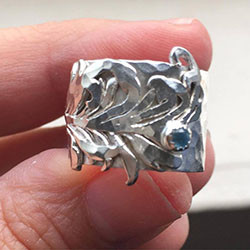 Love my feather ring 
12 Apr 2018
My daughter Tammy asked Paula for a feather ring design for my last birthday. Paula, the design and the gift were wonderful. It's a unique piece I cherish!!!
Teresa Guzman
Atizapan, Mexico
---------------------------------------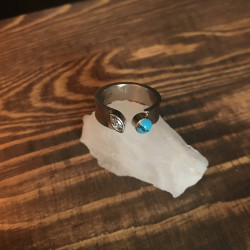 Handmade with love
02 Feb 2018
I have purchased several items from Paula. Besides the great selection of unique jewelry that she has, she created custom crafted jewelry for me that I absolutely love.
By sharing my ideas and a few photos, she designed a lovely earrings for me. She also designed a wonderful ring for me that used stones from pieces I no longer wore. Currently, I am waiting in anticipation of another custom set of jewelry from Paula. Check out her store, you will be pleasantly surprised!
---------------------------------------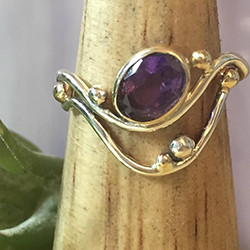 Custom Ring with Heirloom Stone
16 Nov 2017
I am so pleased with the ring I commissioned from Paula Godden. We had some family heirloom gemstones, and I'd always wanted to see them in a piece of jewelry but I sure didn't want them to be ordinary. I saw Paula's work at an art show, and thought I'd ask for her help. She listened carefully to my ideas, looked at the stones, and explained her vision for these family pieces. I gave her one of the stones and waited for the results. I'm so glad I trusted her artistic experience. The ring is unique and beautiful. It satisfies my desire to wear the stone close to me, every day, without looking like an ordinary everyday ring. Everyone who sees it comments on its style, and I just couldn't be happier. I recommend her commission work unreservedly, and will use her again without hesitation.
---------------------------------------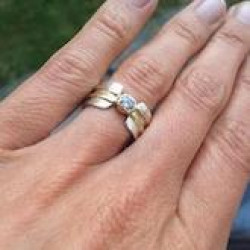 Engagement Ring Remake
20 Jul 2017
15 years of marriage means I get a new ring. I was so amazing to work with my dear friend Paula to create a new version of the ring my husband proposed with. I had not worn my ring for many years and this new version suits my personality and lifestyle perfectly. I love that the heart of the ring is unchanged, but like our relationship, things grow, morph and shine in new ways. I feel like a new bride and can't wait to see where the next 15 years take us! Paula was wonderful to work with and she created a one -of-a-kind piece that reflects her unique style while surpassing my own vision of what the ring would become.
---------------------------------------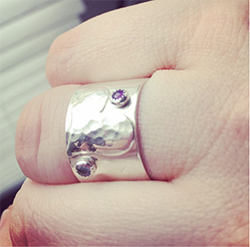 A treasure forever
26 Jun 2017
To celebrate the birth of our 2nd child my husband (smartly) commissioned a custom 'Love' Ring by Paula at 'The Pirate and the Gypsy'.  The thick ring with a bold heart design is accented by the birth stones of my two kids (amethyst and aquamarine).  It's unique and special - just like them. It's bold and solid - like me and motherhood.  I love it so much - I am going to wear it every day and treasure it always.  
---------------------------------------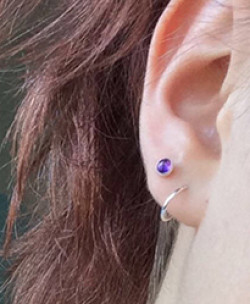 Amazing earrings!
06 Jun 2017
Hi!I bought a pair of amazing stud earrings from this shop they are beautiful! When I usually buy earrings they make my ears infected but these ones haven't given me any reaction! I love them so much!Thank you :
Freya Priddle
North Vancouver, BC
---------------------------------------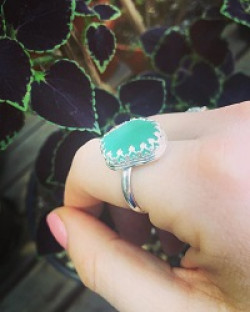 Custom made requests
10 May 2017
In the past few months, I have purchased 4 items! My first purchase was the champagne gypsy necklace, which I fell in love with the moment I saw it and have received countless compliments on.  My next purchase was a beautiful textured ring that I gave as a gift (which was really hard to part with).  My next two purchases were custom designs that I requested, both which turned out perfectly.  I recommend P&G designs highly, and will continue to be a customer indefinitely.
Katelyn Crisp
Vancouver, BC
---------------------------------------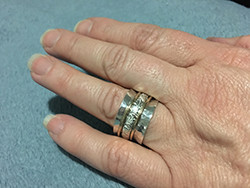 Meditation Ring   
27 Jan 2017
Like so many other people, I wandered aimlessly through the Christmas Market waiting to see what would catch my eye.  And there is was!  It was a most delightful hand-crafted display.  And on it was jewelry… shiny hand-crafted jewelry!  Of course I stopped just to browse; I was after all here to shop for others and was intent on not buying anything for me.  But then I spotted it… The Ring!  A beautiful band of hammered silver, fitted with two small gold bands on either side of a filigreed band of rounded silver, the three smaller bands turning on the larger one.  Never ever in my life had I seen something like this!  It was a meditation ring, and it took my breath away.
Despite my resolve to not buy something for myself, I asked to have a closer look.  I twirled the bands… light reflecting, feeling their rhythm, hearing the gentle tingling as they spun… calming.  Resolve weakening, I tried it on.  Designed for my finger… a gift meant for me! 
When Paula described her labor of love to me and I knew that my ring was created by a true Artisan who translated her vision and soul into her work. 
Paula, I love my ring and wear it daily.  Your gift of creativity has been shared, and I'm sure will be for many others.  Thank you.